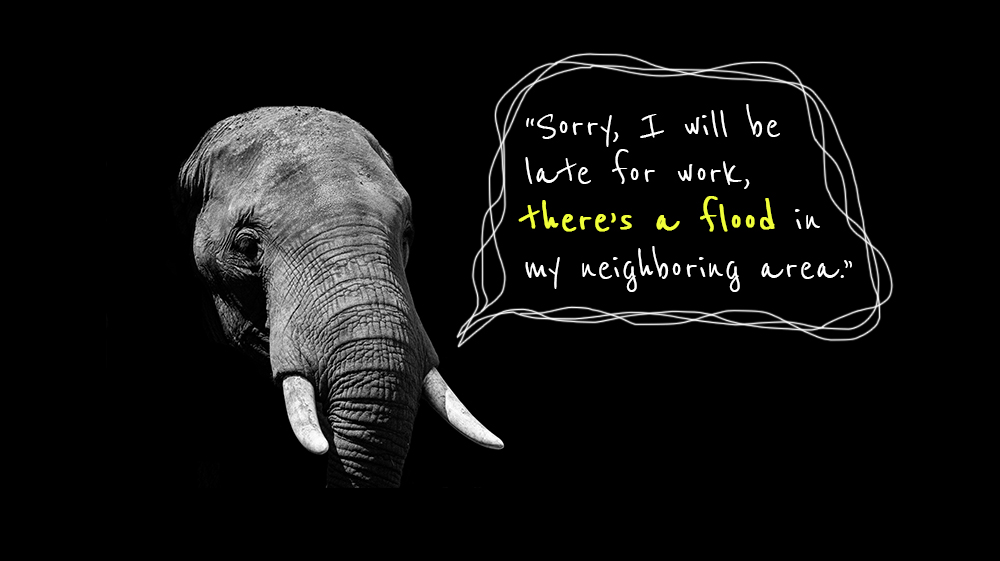 "Why is today so blazing hot? It's supposed to be the rainy seasons!"
"Sorry, I'll be late for work, there's a flood in my neighbouring area."
If you are familiar with at least one of the previous statements, well congratulations, you have experienced the effects of climate change!
Just like the name, climate change is a change in global temperature and weather patterns over many years. The dynamics of global temperature and weather pattern affect the global climate. For your information, climate is the condition of the atmosphere for more than one or two rainy days. Determining a climate in one particular area requires dozens of years weather observations. So, actually climate change will not change drastically in a blink of an eye. Unfortunately us, humans,  catalyze this climate change process as 97% climate scientists agree that our activities caused all these messes. 
Over the past 100 years, global temperatures are slowly rising. As the earth's surface is warming, many of the warmest years on record have happened in the past 20 years. This is an alarming event to be in, as it eventually will affect many other intertwining aspects – from social, environmental, health, to economic realms and many more.
What causes the Earth to be hotter?
Have you ever heard of the greenhouse gas effect? So, basically the sun radiates heat energy to the earth and greenhouse gas prevents some heat from being released back into outer space to keep the earth warm. However, the problem is the amount of greenhouse gas in the atmosphere is more than sufficient. It causes more heat trapped close to the surface of the Earth and makes the Earth temperature hotter. 
The source of that greenhouse gas is mostly from human activities. Greenhouse gas mostly consists of carbon dioxide while the other gas are methane, nitrous oxide, and fluorinated gases. Greenhouse gas emission produced by energy consumption based on 2016 data, WRI reported that 73%  of greenhouse gas emission came from energy consumption[1]. Most of them came from the industry and transportation sector. The use of fossil fuel releases more carbon dioxide to the atmosphere. 
Forest fire strikes double hit at our climate change agenda. It cut down numbers of trees, the one that acts as a carbon capturer, storing the carbon instead of releasing them to the atmosphere. Forest fires also release large amounts of carbon dioxide to the atmosphere, making the earth get hotter and hotter.
Guess what, who made this happen?
It is the industry which often prioritizes profit and overlooks the environment and social impact of their operations. It is the government with their lack of firmness on imposing environmental protection policies and law. It is you and me who consume and do things carelessly, do not care whether it harms the environment or not. It is us who made these happen.
" It is you and me who consume and do things carelessly, do not care whether it harms the environment or not. It is us who made this happen."
It is affecting me and you, as well as the other people. Even other species such as animals and plants should pay the price.
Remember the headline when Indonesia has to relocate its capital city to Kalimantan? Jakarta is one of the fastest sinking cities in the world so we do not have many choices except relocate our capital city to a safer place. This relocation is not only impacting people who lived in Jakarta but also the satellite cities such as Bogor, Tangerang, Depok, Bekasi and of course the people who lived in Kalimantan.
2. Shift in Plants Blooming Time
There is a fierce conflict between Acehnese and elephants which is caused by the shifts in plants blooming times. Not only the wild Sumatran elephants have limited access for a good home, they are also hungry. This is caused by the flowering time shift. Loss of biodiversity may exacerbate changes in the timing of biological events already being driven by climate change. Humans will face major impacts on the composition and diversity of plant and animal communities worldwide, including habitat loss, invasive species, atmospheric pollution and direct harvesting
Have you seen fireflies (kunang-kunang)? I asked my sister who is 6 years younger than me and she said that she could not recall what  fireflies look like. Fireflies are facing extinction due to habitat loss, pesticides, and artificial light. Most of its habitats are transformed into blocks of houses, getting rid of the swamp, lakes, and wild grass. The legendary Orangutan and Sumatran Tiger are also facing its extinction era as their habitat is transformed mostly into palm oil plantation which ironically we use its product every day.
Having your house flooded earlier this year? That means you are directly impacted by extreme weather. In Sumba Timur (NTT), Buleleng (Bali), and Sampang (Jawa Timur), until November 30th 2019, not even a drop of water came from the sky[2]. This condition disrupted crop production and threatened access to clean water which led to famine and health problems.
"It is affecting me and you, as well as the other people. Even other species such as animals and plants should pay the price."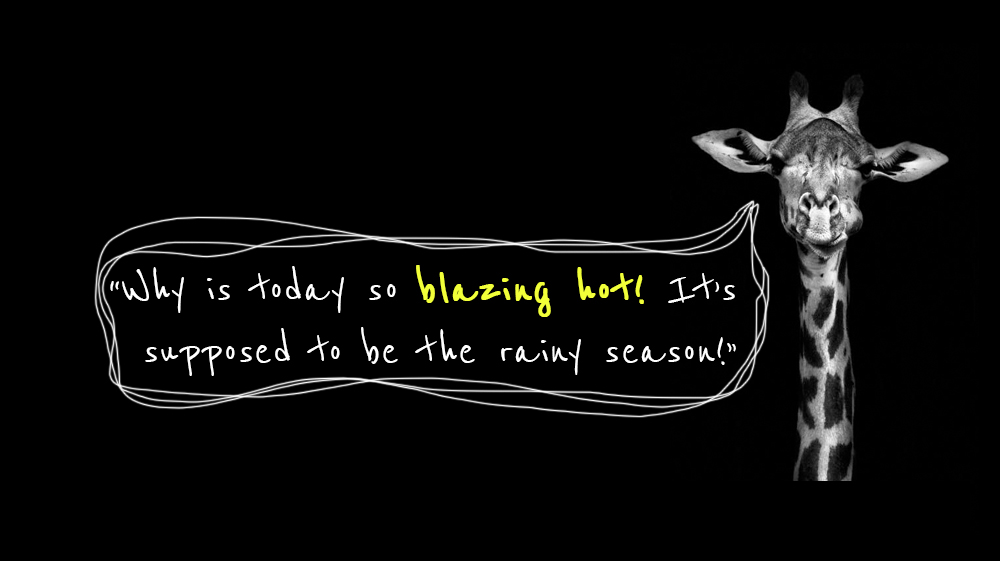 How do we respond to climate change?
We can mitigate this catastrophe by reducing the flow of greenhouse gas into the atmosphere. Recycling and driving more fuel-efficient cars are examples of important behavioral change that will help, but they will not be enough. Climate change is a truly global, complex problem with economic, social, political and moral ramifications. The solution will require both a globally-coordinated response (such as international policies and agreements between countries, a push to cleaner forms of energy) and local efforts on the city- and regional-level (for example, public transport upgrades, energy efficiency improvements, sustainable city planning, etc.). It is really up to us what happens next.
Being adapted means that we learn to live with, and adapt to, the climate change that has already been set in motion. Technology and social-human engineering play a big part in adapting to climate change. The form of adaptation can be developing a crop that is resilient to extreme weather and designing a city to be resilient to rising sea level. 
Well fed enough about Climate Change? Do you get even more curious? We are cooking something to feed your curiosity and try to make this earth hang a little bit longer. Stay tuned!