TEDxJakartaLive 2011: The Stuff of Life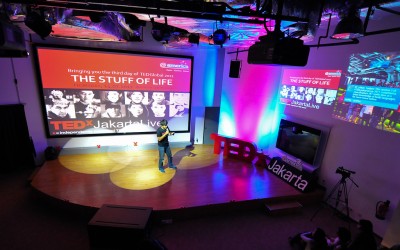 @america, July 14, 2011
On July 2011, TEDxJakarta brought a full-day TED experience in the form of a slightly delayed live screening from the second day of TEDGlobal2011: The Stuff of Life
TEDGlobal itself is TED's twin conference. It was held in Oxford, UK, in 2005, 2009 and 2010, and in Arusha, Tanzania, in 2007. TEDGlobal is now held annually in Edinburgh, UK, each summer. The themes of the global conference are slightly more international in nature, but the full TED format is maintained.
In this event, we screened never-before-seen talks that are not yet available to public. Speakers from various fields such as techno-illusionist, rational optimist, and even underworld investigator will be sharing their ideas in the topics of: Future Billions, Emerging Order, The Dark Side, and Bodies.
For us: It will be a learning experience like no other!