In a matter of hours, our TEDxJakartaSalon: The Little Unknown is coming to you, but first thing first, there's a couple of things you need to know to get the best of this year Salon's experience. Here are the list of Do's & Don'ts for our TEDxJakartaSalon event.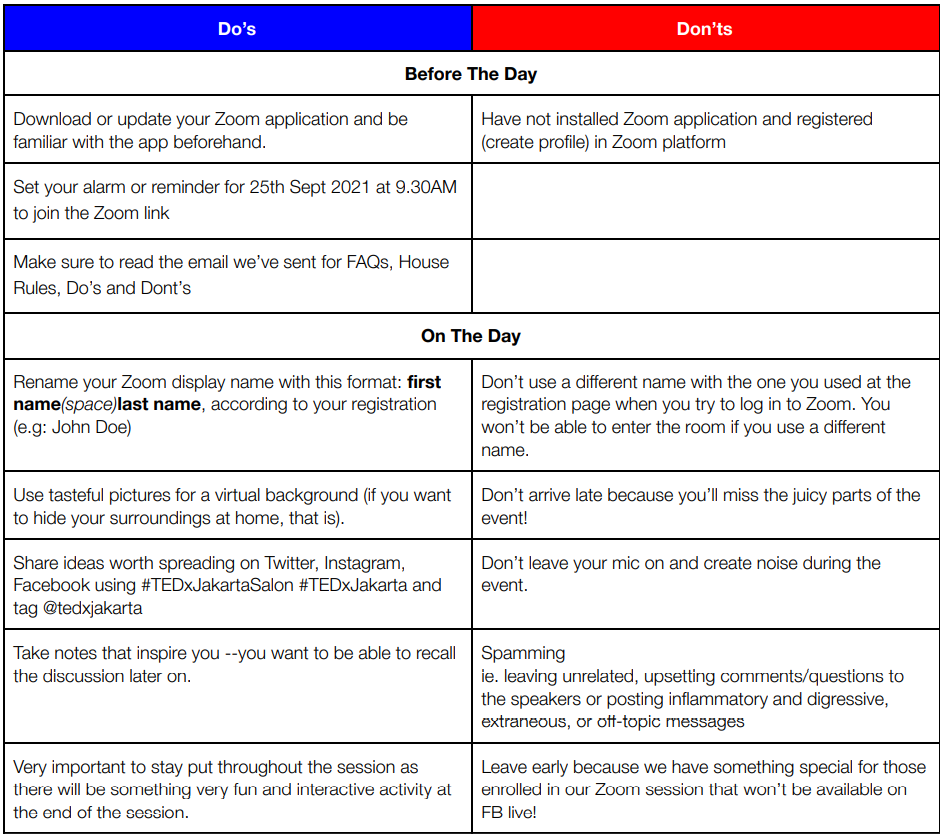 FAQs about TEDxJakartaSalon
TEDxJakartaSalon
What is a Salon?
We often associate "salon" with hairdressing, but to be fair, it's not the only meaning. Salon could be understood as "a meeting of intellectuals or other eminent people at the invitation of a celebrity or socialite."
What is TEDxJakartaSalon?
Referring to global TED website, Salon events are often small weekly or monthly events that keeps a TEDx community engaged between annual TEDx events.
Is this event for hairdresser only?
No. This event is for everyone. You will not get your hair cut, or done here. But surely your brain will be stimulated through TED Talks screening, and discussions with TEDxJakarta community.

Event Registration
How do I register for this event?
Click here for the registration link http://goers.co/tedxjaksalon2021
Very important note: Please sign up using the same name during registration – both on GOERS and Zoom

Can I register for my friend?
No, but you can share the registration link to your friend!
Link for registration is http://goers.co/tedxjaksalon2021

If I'm unable to attend, can I pass my ticket to a friend?
No, because your registration and admission to Zoom are based on the name and email address used to sign up for the event.

What if event tickets are sold out?
Not to worry! For those who ran out of event tickets, our TEDxJakartaSalon event will also be live streamed on our Facebook Page as a Facebook Live event. We will provide a link on our website and social media platforms for you to join.
Anything else that I need to know?
We recommend you to download the latest version of the Zoom application that will be used for the TEDxJakartaSalon event. Please check for application updates at least one day before the event, so you will have a smooth experience and avoid additional technical difficulties. Make sure your camera, headphones and microphone are working properly. If you have any questions on how to install the application, you are welcome to ask us on our social media platforms.

Event Platform
What is Zoom?
Zoom is an application that provides video and audio conferencing, collaboration, chat and webinars across mobile devices, computers, room systems and telephones. Zoom has been helping businesses, communities and organizations bring their teams together in a frictionless environment to get more done online.

How can I join the Zoom platform?

If you are:

An iPhone user, search "Zoom Cloud Meetings" and download the app from Apple Store

An Android user, search "Zoom Cloud Meetings" and download the app from Google Store

Downloading from your PC/laptop, click https://zoom.us/download, you can either download the application or simply add Zoom extension on your Firefox or Chrome browser 

Or simply, by clicking on the Zoom webinar link we will provide, nearing the TEDxJakartaSalon, the link will direct you to download the application.

Is this platform safe?


We are very concerned for your safety. Make sure you have the most updated version of the Zoom app. The newest version has revised its terms and conditions that prioritize your safety.
I cannot open Zoom, it is not loading on my computer. What should I do?
Ensure you have enough memory to download the application, recommended system for PC or Mac is as follows:
Minimum OS:
Mac OS X with Mac OS 10.10 or higher ; Windows 7 or higher
Mac OS or Windows OS hardware requirements: 


2.5 GHz Dual Core Intel Core i5 and higher desktop CPU (single screen)
2.8 GHz Quad Core Intel Core i7 and higher desktop CPU (dual or triple screen)
Dual bank RAM for better performance
Further detail on the system requirements can be found on the Zoom's support here
https://support.zoom.us/hc/en-us/articles/204003179-System-Requirements-for-Zoom-Rooms

Anything else I need to keep in mind?
1.  It will be very helpful for you to install the Zoom application at least a day before the event, to ensure your internet, camera, headphones and mic are working properly so you can enjoy a smooth experience during the event
2.  There will be interactive activities and you will be asked to participate, so ensure you are in a room with minimum noise and interruption
3.  During interactive activities, it is not allowed to post or speak using false and/or defamatory, inaccurate, abusive, vulgar, hateful, harassing, obscene, profane, sexually oriented, threatening, invasive of a person's privacy, or otherwise violative of any law
4.  We know we can get very creative using the customized Zoom background. Please make sure the choice of the picture background is still tasteful and not offensive to the rest of the participants. Keep in mind to stay polite, and stay away from choosing indecent pictures containing pornographic material, defamatory, inaccurate, abusive, vulgar, hateful, harassing, obscene, profane, sexually oriented, threatening, invasive of a person's privacy, or otherwise violative of any law