Hi everyone!
A big THANK YOU for your time and interest to take part as volunteers for upcoming TEDxJakarta event(s) (of which we haven't announced, so far! Please stay tuned and be patient *peace*). As all TEDxJakarta events are run entirely by volunteers, without the commitment and enthusiasm of people like you, we wouldn't exist!
We are so enthralled with your responses during the volunteers registration. It was actually another record breaking occasion for us, with total of 915 applications submitted (yep, you read it right). Phew.. let us repeat, nine hundred and fifteen people applying to be part of volunteer team. It is such an honour for us to receive much love from you. 
However, the truth is that we can only accept much much less than that [sorry! :( ]. After going through some internal processes that we told you in the registration form, we finally shortlisted below names to go into the next phase, which is meeting the team in person. Do get ready! Here's the list of names that should be receiving our emails to let you know of the details: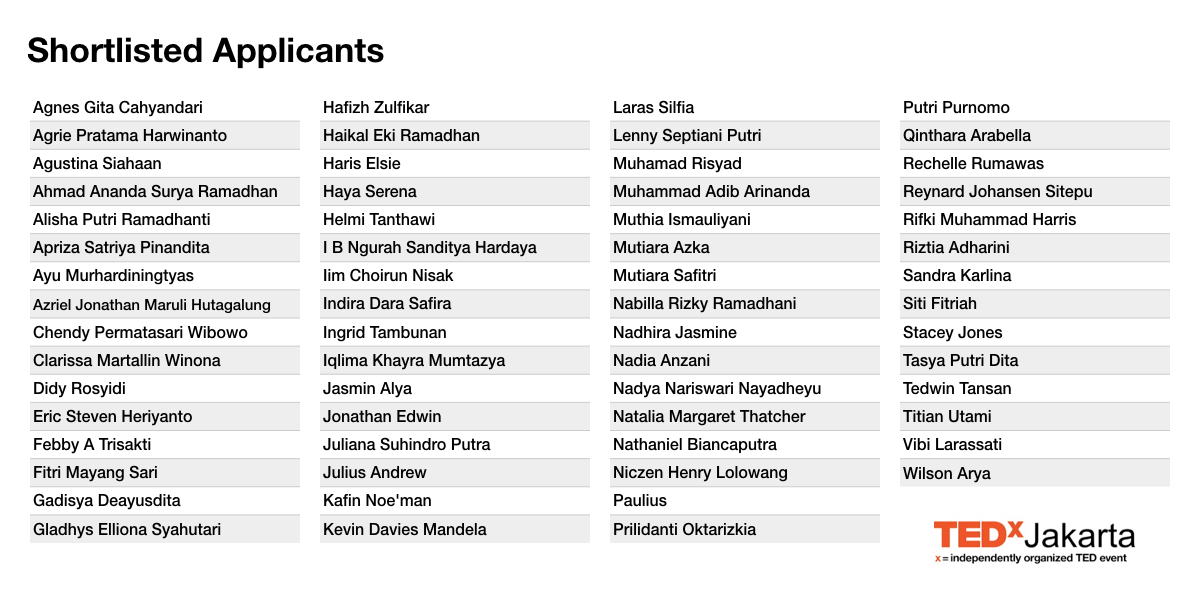 If you find your name in the list, please check your email by the end of April 27th to read the details and respond to us. For those not mentioned, we truly thank you again for your interest, and wish you the best of luck for next opportunity to take part in our volunteers team team (Don't worry, maybe you can be one of regular attendees in our event!)
Please note that the upcoming phase is still open to all possibilities (no guarantee that you are accepted yet), thus we want you to give your best during the process. Related to this, for any questions or other inquiry just drop an email to volunteer@tedxjakarta.org
Once again, thank you everyone for your interest and support! Please stay tuned to our social media accounts and/or our mailing list for more news and updates!
Best of wishes,
TEDxJakarta Team