Our TEDxJakartaSalon event was held in January 26, 2018 at EV Hive D.Lab, Menteng. It was a great moment to start 2018 with and most likely was first time experience for many people to join a salon event. Even for our volunteers team, it was quite an experience too with lots of learnings to take.
A little emphasis here on "salon" term. There were lots of question about it. From simple questions about "what does it mean?" until clarification such as "Is this an event only for hairstylists?"
Well, it is true that we associate "salon" with hairdressing, and so is the common definition of salon: "an establishment where a hairdresser, beautician, or couturier conducts business". But to be fair, it's not the only meaning. A quick search will show that it has other meanings.
From Wikipedia, there's an entry of salon (gathering) defining: "A salon is a gathering of people under the roof of an inspiring host."
While apparently for those in North America, salon could be understood as "a meeting of intellectuals or other eminent people at the invitation of a celebrity or socialite." 
TEDxJakartaSalon, as a licensed event from TED, of course relies on the guideline provided by TED.com:
Salon events are often small weekly or monthly events that keeps a TEDx community engaged between regular TEDx events. It's a unique kind of gathering that TEDx organizers hold which allows the conversation to continue, in person.
Complete guideline of Salon Event can be found in here. 
So, what are the differences of TEDxJakartaSalon and the 'usual' event of TEDxJakarta? Here's the list: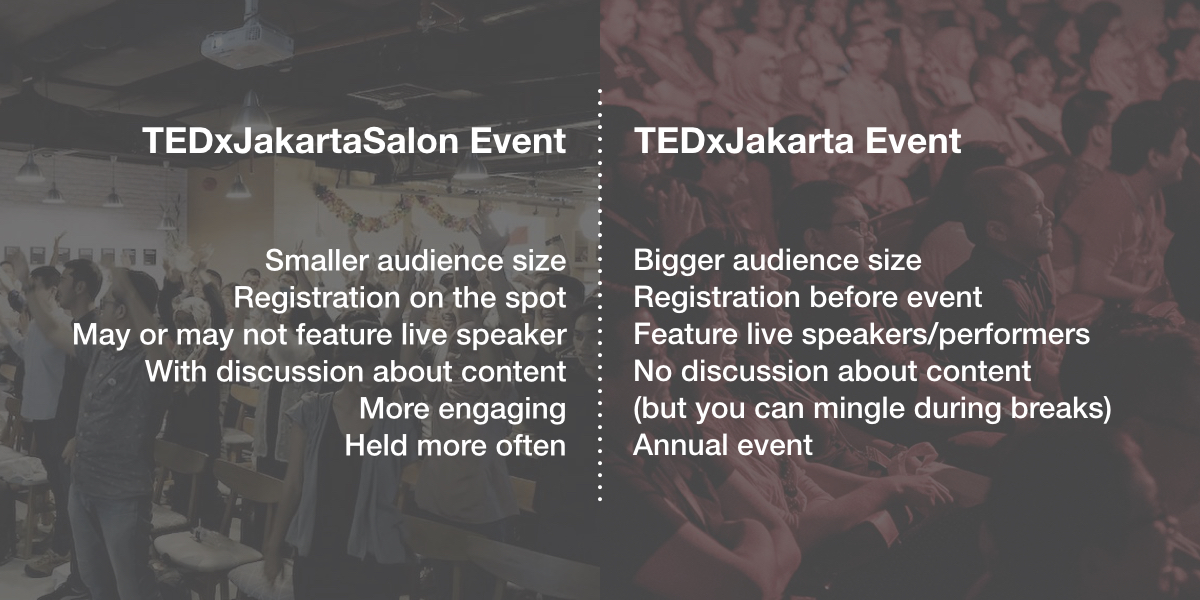 By the point "Held more often", January's TEDxJakartaSalon definitely will not be the last one in 2018!! To have this kind of event weekly or monthly, is not yet within our plan (sorry). But there will be other TEDxJakartaSalon events to be announced, for sure.
And for the next TEDxJakarta Event? Please also wait patiently for the announcement.
We hope to see you in one of the events that we're going to have.
Until then, take care!
TEDxJakarta Team