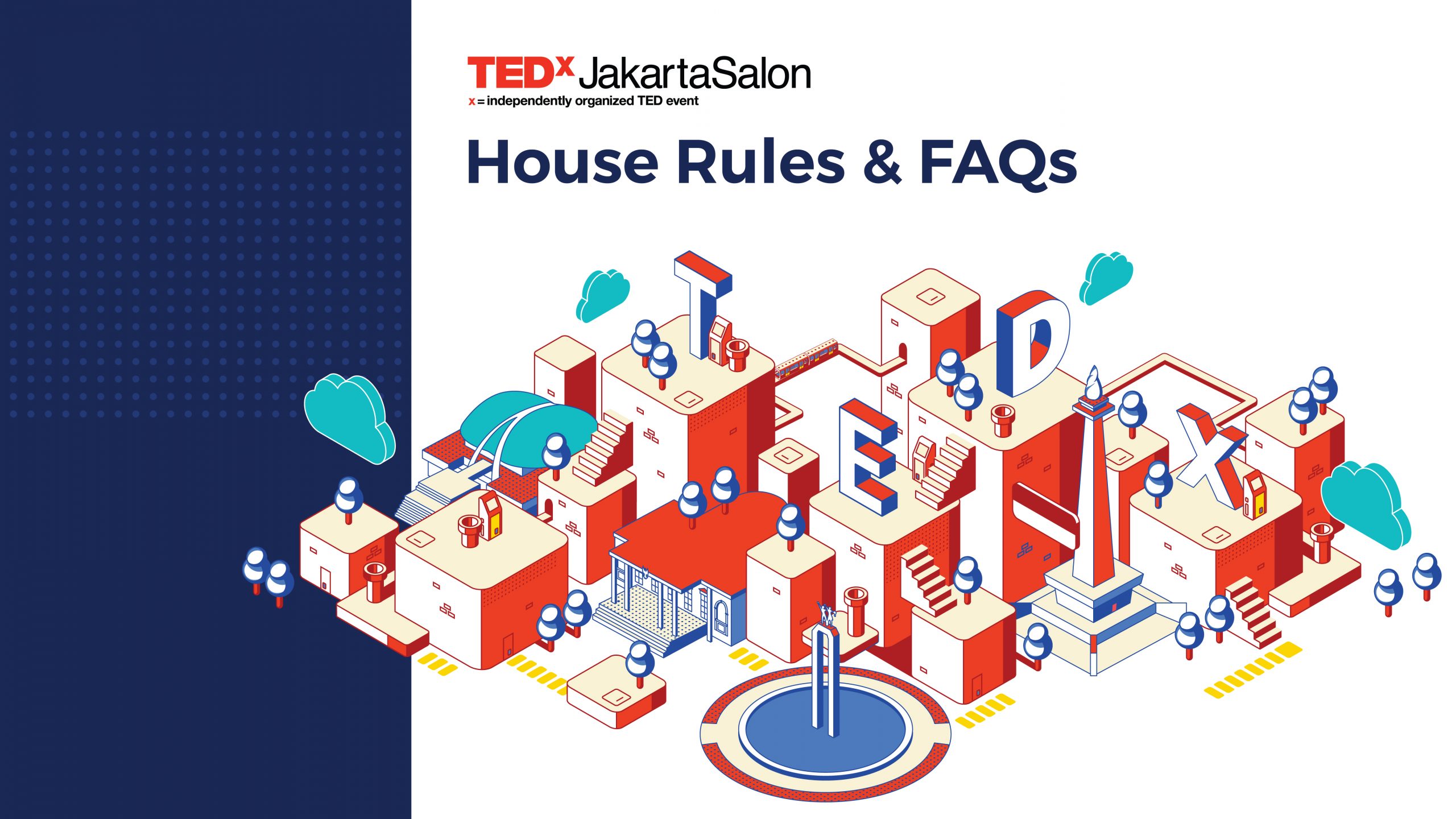 In a matter of hours, our TEDxJakartaSalon: Obscure Lucidity is coming to you, but first thing first, there's a couple of things you need to know to get the best of this year Salon's experience. Here are the list of Do's & Don'ts for our TEDxJakartaSalon event.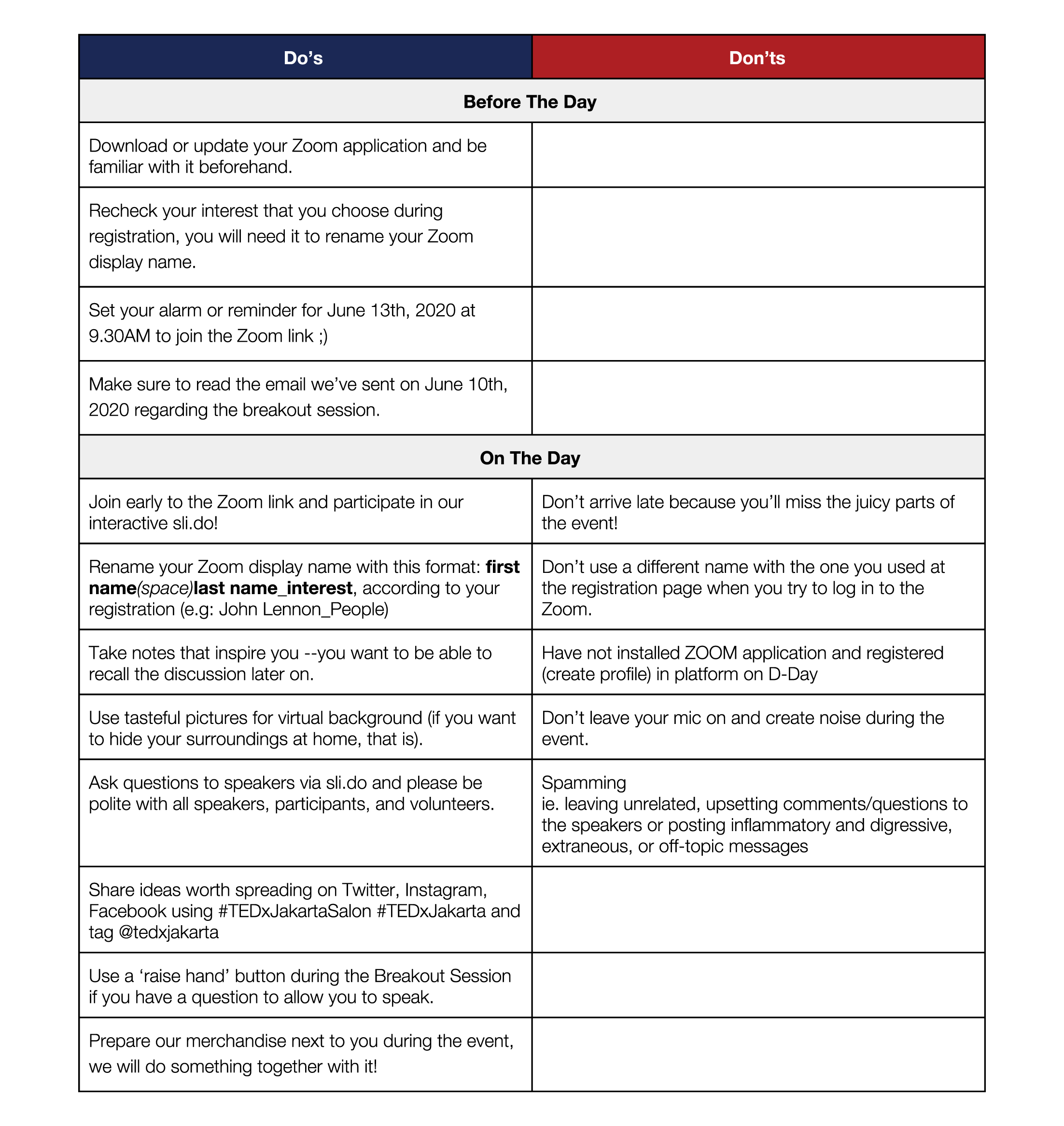 FAQs about TEDxJakartaSalon
TEDxJakartaSalon
What is a Salon?
We often associate "salon" with hairdressing, but to be fair, it's not the only meaning. Salon could be understood as "a meeting of intellectuals or other eminent people at the invitation of a celebrity or socialite."
What is TEDxJakartaSalon?
Referring to global TED website, Salon events are often small weekly or monthly events that keeps a TEDx community engaged between annual TEDx events.
Is this event for hairdresser only?
No. This event is for everyone. You will not get your hair cut, or done here. But surely your brain will be stimulated through TED Talks screening, and discussions with TEDxJakarta community.

Event Registration
How do I register for this event?


Make sure you use 

the same name

 

upon registration of the event when log in to Zoom.



Can I register for my friend?


No, but you can share our Facebook Live to your friend! (

facebook.com/TEDxJakarta/live

)



If I'm unable to attend, can I pass my ticket to a friend?
No, because your registration is according to the name and email that has signed up for the event.
What if event tickets are sold out?
Not to worry! For those unable to attend our webinar because of the limited slots, the event will be live streamed on our Facebook page via Facebook live. We will provide a link on our website and social media platforms for you to join.
Event Platform
What is Zoom?
Zoom is an application that provides video and audio conferencing, collaboration, chat and webinars across mobile devices, computers, room systems and telephones. Zoom has been helping businesses, communities and organizations bring their teams together in a frictionless environment to get more done online.

How can I join the Zoom platform?
If you are an iPhone user, search "Zoom Cloud Meetings" and download the app from Apple Store & if you are an Android user, search "Zoom Cloud Meetings" and download the app from Google Store (Downloading from your PC/laptop, click https://zoom.us/download, you can either download the application or simply add Zoom extension on your Firefox or Chrome browser).
Event Format
Can I ask questions to speakers?
Yes. Questions can be submitted via Sli.do. We will provide the event code and you are free to ask anything to the Speakers – related to the topic they are discussing, of course.

What is a 'breakout' session?
Other than insightful talks curated and prepared just for you; we have interesting activities planned as well! Breakout sessions will allow participants to get to know each other during the event. This will help you to network and make new friends and refresh your mind. That's why it is important to make sure your camera, headphone and mic are working!

Can I choose which breakout session to join?
The host will assign you according to the interest you have chosen while registering. Your breakout session will be according to your interest and you will meet people who most likely share the same interest as you!